API Branding Guide
Please adhere to our branding guidelines when incorporating our information into your application. This attribution will enhance your offering and protect our brand. HTH Worldwide has a reputation for providing trusted and reliable healthcare information and technologies for world travelers.
Usage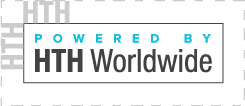 Clear Space
Clear space is the term given to the room allotted around a particular logo, image, or content. Powered By HTH badges should maintain a clear space no smaller than the height of the "HTH" in the logo or banner. The assets below have the appropriate clear space added.
Assets
When using HTH Worldwide content, please include the Powered By HTH Worldwide logo on any page or screen that displays content or data from our APIs. The HTH Worldwide logo should always link to www.hthworldwide.net.

















Color


The blue used in our badges compliments the HTH logo classic gray perfectly.
| Color | Hexidecimal | RGB |
| --- | --- | --- |
| Blue 311 | #14BFDB | R/20 G/191 B/219 |
| Classic Gray | #414042 | R/65 G/64 B/66 |
Questions regarding brand or the use of HTH Worldwide logos and identity, should be directed to marketing@hthworldwide.com.